January 19, 2023
Last week, Utah Attorney General led the first "Global Anti-Human Trafficking Summit," hosted by The Attorney General Alliance. Top regulators and law enforcement officers representing states and territories across the United States of America met for three days to learn and collaborate on all aspects of the national human trafficking problem.  
"State Attorney General Offices have long taken the lead in this space but cannot effectively fight without local, federal, and international partners in government and the private sector sharing resources and collaborating," said Karen White, executive director of the Attorney General Alliance.
As part of the 2023 Summit, the NGO Leadership "Sword & Shield" Award was presented to Hawaii-based nonprofit organization Hoʻōla Nā Pua and received by HNP Founder and CEO Jessica Muñoz. The award was presented by Utah Attorney General Sean Reyes and Heather Fischer, Senior Advisor, Thomson Reuters Special Services & Former White House Human Trafficking.
The "Global Anti-Human Trafficking Summit" convened with experts worldwide in combating modern-day slavery. Leaders across multiple industries participated in panels at this historic summit to address one of the world's most pressing and serious human rights violations. Survivors met with policymakers, law enforcement officers, regulators, prosecutors, judges, and technology experts who shared their experiences and perspectives on the matter.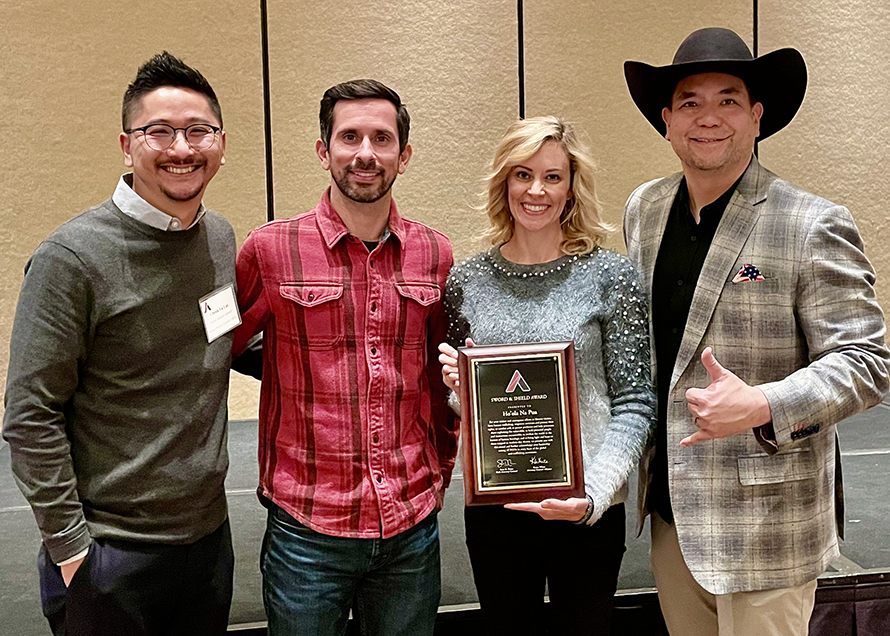 Pictured L-to-R:  
Utah Attorney General Sean Reyes, Hoʻōla Nā Pua Founder, and CEO Jessica Munoz, Heather Fischer, Senior Advisor, Thompson Reuters Special Services & Former White House Human Trafficking 
Photo Credit: Courtesy of AGA
"I want to highlight the incredible work that Jessica Muñoz and her HNP team are achieving in Hawaii through their organization Hoʻōla Nā Pua (New Life for our Children.) As a nurse practitioner, Jessica saw the unjust world in the eyes of children and adolescents every day. Still, instead of ignoring their silent cries for help, she stepped up – giving hundreds of hours every month raising awareness and working on ways to create social change," said Utah Attorney General Sean Reyes.  "Your courage to build Pearl Haven and offer trauma-informed therapeutic services is visionary and a gold star in aftercare services. Thank you to Hoʻōla Nā Pua and Jessica's team for creating a safe place for victims in Hawaii."
"Receiving The AGA "Sword & Shield" Leadership Award from Utah Attorney General Sean Reyes holds profound significance in light of his childhood origins in Hawaii and now his national leadership in anti-trafficking law enforcement," said Jessica Muñoz. "It is a testament to the continued need and effectiveness for multi-level government and agency coordination; Hoʻōla Nā Pua is honored to stand in advocacy, prevention and informed response with The AGA and AG Reyes in our determination and passion for change to end trafficking and exploitation."
Media Note:
Images attached
Summit Agenda PDF Attached
Official Press Release Announcement Attached
About Ho'ōla Nā Pua:
Ho'ōla Nā Pua (New Life for Our Children) was founded as a 501(c)3 to shine light onto the dark criminal enterprise of sex trafficking, placing the health of Hawaii's youth at the center of our mission and our vision for our community. We are committed to the prevention of child sex trafficking and providing care for children who have been exploited. Ho'ōla Nā Pua (HNP) is dedicated to creating a safe community where children can embrace their bright futures. Today, not only does HNP offer integrated programming that reaches thousands of youth, community members, and stakeholders across the state of Hawaii annually, but it is also considered a national partner and a rising standard in the global effort to stop sex trafficking permanently. Stay connected and learn more about the issues and our solutions: www.hoolanapua.org | Instagram: @hoolanapua
About Pearl Haven, A Program of Ho'ōla Nā Pua
The Bromley Family Pearl Haven Campus (Pearl Haven), a program of Ho'ōla Nā Pua, is a premier Special Treatment Facility (STF) that opened in the Spring of 2021. Pearl Haven's 32-bed residential treatment program is designed to provide a continuum of care and trauma-informed therapeutic services for youth ages 11-17 determined to have Severe Emotional and Behavioral Disturbances (SEBD), with an emphasis on youth who have experienced sexual trauma or are at high risk of sexual exploitation and/or trafficking. Visit https://hoolanapua.org/pearl-haven/ for more information. For admission and referral process information please contact admissions@pearhavenhawaii.org or call (808) 900-8740.
IN DANGER, NEED HELP, OR KNOW SOMEONE WHO DOES?
National Human Trafficking Hotline: 888.373.7888 or text HELP to 233733
State of Hawaii Child Protective Service: (CWS) Hotline 808.832.5300 (24/7) or 1.888.380.3088 (Neighbor Islands) (24/7)
Department of Human Services/Child Welfare Services: 808.832.1999 and 888.398.1188.
24-hour Crisis Support Hawaii Statewide Services: 808.721.9614
Sex Abuse Treatment Center 808.524.7273
Confidential Crisis Assistance, Referrals, Tip Reporting, and General Information: 888.373.7888
Ho'ōla Nā Pua For Referrals and Youth Support: 808.445.3131
Emergency Assistance: 911
The Attorney General Alliance (AGA) began as the Conference of Western Attorneys General (CWAG), a 501c3 nonprofit organization and a bipartisan group of 15 western states and three territories. Built on a foundation of fostering collaboration between western AG offices, CWAG has long maintained a focus on issues in the fields of Native American, natural resources, public lands, minerals, and energy law. As our relationships grew and our organization matured, new partnerships were formed from all over the country, and transnational legal issues emerged around the world. Our interests and expertise necessarily ventured beyond the boundaries of the West.

###
*Hoʻōla Nā Pua supplied this news release on January 13, 2023.